Introduction
In today's interconnected world, data breaches have become unfortunately common. One recent incident that has drawn the cybersecurity community's attention involves Okta, a prominent identity and access management (IAM) provider. This blog post delves into the specifics of the Okta breach, its impact, and the lessons we can learn.
The Initial Okta Breach
The story starts with a breach of Okta's case management system, reported in late October. Threat actors gained unauthorised access to sensitive files of 134 Okta customers, less than 1% of the customer base. Some stolen files were HTTP Archive (HAR) files with session tokens, usable in session hijacking attacks.
Targets: BeyondTrust, Cloudflare, and 1Password
BeyondTrust, Cloudflare, and 1Password confirmed their systems were targeted due to this breach. They emphasised no loss of customer data during these incidents, highlighting their robust security measures.
Okta's Response and Investigation
David Bradbury, Okta's Chief Security Officer, revealed the breach's origin. An employee logged into their personal Google account on an Okta-managed laptop, inadvertently saving service account credentials. The hackers exploited this service account, gaining permissions to view and update support cases. The breach occurred from September 28 to October 17, 2023.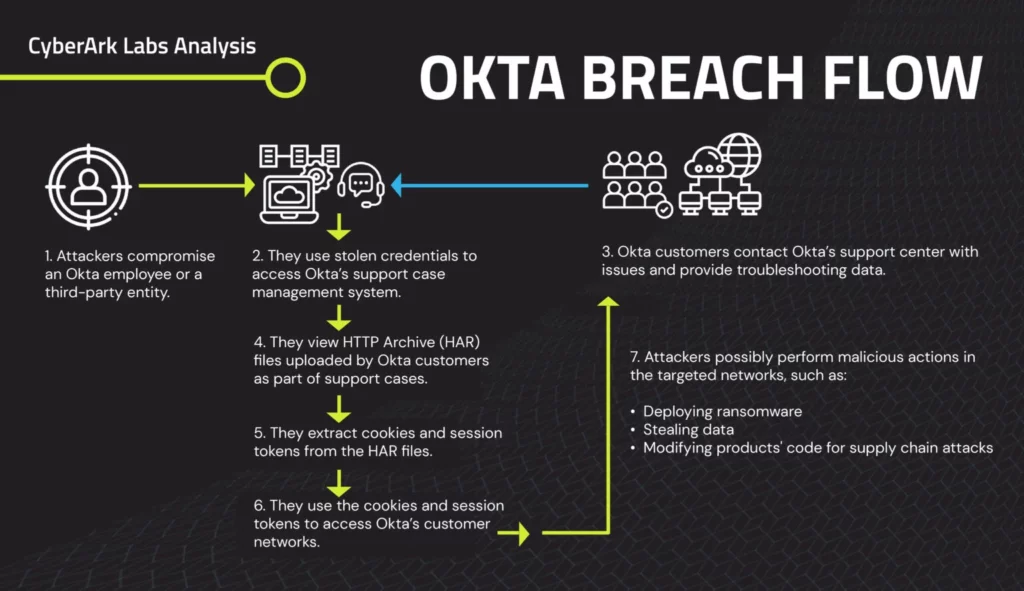 Investigation Challenges
Okta's security team initially focused on unauthorized access to support cases. Identifying suspicious downloads took 14 days. Unique log event types and IDs complicated the detection process.
On October 13, BeyondTrust provided a suspicious IP address, leading to the identification of the compromised account's activities.
Implications and Ongoing Concerns
The breach raises numerous cybersecurity concerns. Callie Guenther, Senior Manager of Cyber Threat Research at Critical Start, highlighted the potential for secondary attacks arising from exposed data. Such incidents erode trust in service providers, especially for security-focused companies like Okta.
John Bambenek, Principal Threat Hunter at Netenrich, pointed out that recurring security events raise questions about Okta's reliability in sensitive roles like identity and authentication.
Conclusion: The Vital Role of Passwordless Authentication
The Okta breach underscores the importance of robust cybersecurity practices. Organisations must remain vigilant, conducting continuous security assessments and proactively implementing measures against evolving threats.
A single compromised password can jeopardize an entire institution. Therefore, we strongly advocate for passwordless authentication. By eliminating passwords, organizations can fortify their defenses, enhancing security and reducing the risk of future incidents. Passwordless authentication is a safer and more effective approach to protecting digital identities in today's evolving landscape. #gopasswordless